Welcome!
There's something for everyone at our museum!
---
Artifacts, maps and photographs capturing the history of Wisconsin's third oldest settlement are featured in the Museum at the Portage. The past is illuminated through hundreds of authentic pieces from this unique place at the intersection of the Fox and Wisconsin Rivers. Discover the story of Portage as you explore area history and culture shaped by the influences of rivers, native people, early explorers, brickyards, railroads, and local residents.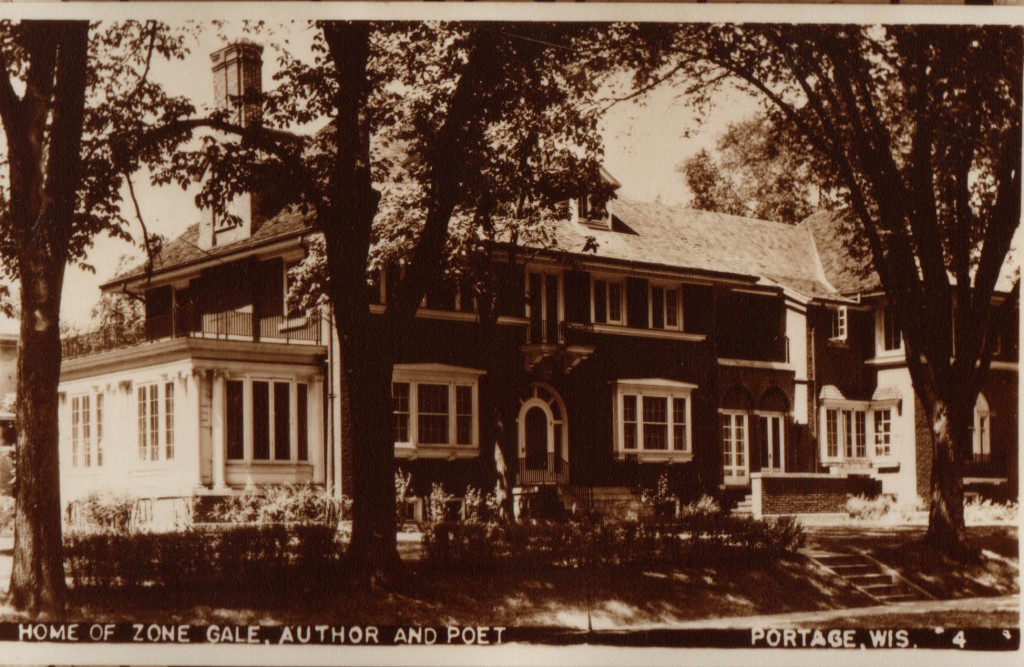 The Museum at the Portage is housed in the Georgian Revival-style home author Zona Gale shared with her husband, William Breese. Upon her death in 1938, her husband deeded the building to the city as a memorial to his wife. The city converted the building to a public library, a function it served until 1995 when new larger library was built. Zona's former home now serves as the Museum at the Portage, and visitors are able to step into Zona's study where she wrote many of her books and short stories. The woodwork in the study is exquisite and it's easy to imagine the author at her desk. Other unique features of the building include leaded glass windows, a sunken sun porch with mosaic fountain, a hidden bathroom in Zona's study, barrel ceiling in the upstairs bathroom, and well-maintained rose garden.
There is no charge for admission to the museum, though we welcome your donation. After a brief orientation by one of our docents, you will be able to go on a self-guided tour, and the docent will be available to answer questions.
We look forward to seeing you soon!
COVID-19
Policies for In-Person Visitors
Effective July 8, 2020
Revised July 20, 2020
The safety of our visitors and staff is important to us. We all need to do our part so that we may have a safe and enjoyable season
together! An inherent risk of exposure to COVID-19 exists in any public place where people are present. COVID-19 is a contagious
disease that can lead to severe illness or death. According to the Centers for Disease Control and Prevention (CDC), guests with
underlying medical conditions are especially vulnerable. By visiting our museum, you voluntarily assume all risks related to COVID-19
exposure.
At each visit, program, or event, the museum will follow CDC guidelines to protect all staff and visitors listed on the CDC website
( www.cdc.gov/coronavirus/2019-ncov/index.html ). If you have any symptoms of illness, test positive for COVID-19, are awaiting results
from a COVID-19 test, or have recently been exposed to someone with COVID-19 (even if you have no symptoms), please wait for at
least two weeks to visit our museum. If you have one or more of these symptoms or are otherwise not feeling well, please wait at least
two weeks before visiting:
● Sore throat
● Cough
● Shortness of breath or difficulty breathing
● Fever over 99 degrees
● Unusual tiredness/fatigue
● Chills
● Muscle aches
● New loss of taste or smell
● Rash/purple or red bumps on toes or hands
● Nausea, vomiting, diarrhea
Limited Capacity & Established Hours of Operation.
Reservations are required to visit our museum during regular hours of operation. Please call (608-742-6682) or email
(museumattheportage@gmail.com) the Museum at the Portage at least 24 hours in advance to schedule your visit at our
museum. A maximum of 10 visitors (five on the first floor and five on the second floor) with 1 staff member are allowed in the
museum at any one time. Individuals are to enter the museum using the front door on MacFarlane Road and each individual
is required to to sign in with name, address, phone number, and email address (information will only be used if we are notified
that a staff member or visitor has tested positive of Covid-19 following a visit). Visitors are asked to respect and maintain
social distancing of 6 feet or more at all times.
Face Masks are REQUIRED.
Everyone is required to wear a face mask inside of the museum for the protection of all visitors, volunteers, and staff.
Disposable masks will be available to visitors who did not bring their own masks. If you have any health conditions that
prevent you from wearing a mask, please do not plan a visit until the restrictions are lifted.
Cleaning & Sanitation of Museum.
Visitors and staff are to use hand sanitizer upon entering the museum. We have implemented strict cleaning and sanitation
practices at the museum. Staff will be responsible for disinfecting high-touch surfaces and cleaning the bathroom routinely
after every visitor.
Brick Memorial Terrace
An opportunity to have an engraved brick paver honoring an individual, family or business. Engraved bricks will serve as a lasting tribute to those – past or present – who established Portage as a cultural center since 1854 and those who continue to serve the city.
To order a brick online, please click here.
Upcoming Events
No post Found
Museum Hours
MUSEUM HOURS
By Appointment Only
Call or Email to Schedule a Visit
OPEN
April & May
Thursday through Saturday 1-4 pm
June, July & August
Tuesday through Saturday 1-4 pm
September & October
Thursday through Saturday 1-4 pm